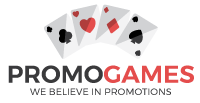 Improve your Business with our Sweepstake Game Platform
PromoGames is proud to present the only sweepstakes platform for the management and growth of your on line or off line business
Internet Cafe Sweepstakes Promotions - Fun & Profitable!
The PromoGames platform counts on 15 years of improvements, in which PromoGames customers and staff have worked closely together to implement, in an easy and immediate manner, all the necessary features for the management of workstations and for customer satisfaction (gaming experience/engagement).
E-Commerce Sweepstakes Promotions - to Boost your Sales!
Today entrepreneurs must be agile and flexible in how, when, where and even why they sell in various channels. If you want visitors coming to your site, experiencing your brand and becoming valuable lifetime customers, it's time to embrace our on line promotional platform and become one of the most successful e-commerce all over the web.
high fees


Earn a lot of money with our Sweepstake platform: your sales will take advantage of our promotional games and you can make an extra gain thanks to the most competitive fees on the market
games


A large library of games that you may offer to your customers and the periodic release of new games allows us to be the market leader of sweepstake softwares
become a distributor



There will be no installing software: all you need is a PC and an Internet connection; or have Internet Kiosks or dedicated terminals to recharge their smart card automatically.
No specific skills are needed; for the startup phase we provide advice and assistance free of charge.

WANT TO DISTRIBUTE OUR PLATFORM? CONTACT US NOW!

Want to distribute our Platform?
Use this form to contact us and/or receive more information. Fill in the obligatory fields (*) and specify your request. Our operator will respond in the shortest time possible.